Bankruptcy Lawyers Bangor
We understand that the word "bankruptcy" sounds ominous. And it is a big decision to make — one that should only be taken when there are no other options and you owe more than you can pay back. Know that bankruptcy isn't a quick and easy cure for your debt, but for many people, it is a way to get a fresh start. No one should have to live with the constant stress of overwhelming debt.
McCue Law Office bankruptcy attorneys understand the stress of your situation —we've helped hundreds of clients find relief from debt in our more than 35 years in the field of law. If you live in Bangor or the surrounding areas and answered yes to several of the questions listed above, then contact our office. We offer free consultations and will be your advocate throughout the entire process.
Filing for Chapter 7 Bankruptcy Debt Relief
When you need a fresh start and feel as if you have no more options, McCue Law Office in Bangor can help. We can educate you on your choices for debt relief, including filing for Chapter 7 bankruptcy. We offer free evaluations by phone, email, or in-depth consultations with an experienced bankruptcy attorney. If you can't seem to get ahead, if you feel stuck, or if you feel like you are sinking further behind financially, we can help! We will answer any questions or concerns you may have about Chapter 7 bankruptcy, and help you plan for a brighter future. Contact us today to get started.
What is Chapter 7 Bankruptcy?

Chapter 7 bankruptcy means that your debts are discharged and you get a fresh start regarding your finances. In this type of debt relief, a trustee collects and liquidates any of your property that is not exempt. The total proceeds of your liquidation are distributed to your creditors, a commission is taken by the trustee, and your debt can be discharged. Certain types of debt, such as family support, certain taxes, and student loans cannot be discharged. The best way to understand your options is by calling McCue Law Office in Bangor. We can help you get your fresh start!
Exempt Assets That Cannot Be Liquidated in a Chapter 7 Bankruptcy:
Certain property is exempt under Maine law, which means that it is not available for the trustee to take. This can include equity in your home, life insurance, family support income, pensions, personal property (clothing, household goods and furniture), public benefits, tools of your trade, and wages earned after you file bankruptcy. These exempted assets may be subject to value limitations.
Speak With Us Today About Chapter 7 Bankruptcy
---


The Wage-Earner's Plan: Filing for Chapter 13 Bankruptcy in Maine
Chapter 13 is referred to as a wage-earner's plan. This type of bankruptcy allows people with regular income to develop a plan to repay their debt in a more manageable way. If you think that Chapter 13 bankruptcy may be right for you, call one of our bankruptcy lawyers for a free consultation.
McCue Law Office is Here to Help You With Your Bankruptcy!
Chapter 13 bankruptcy allows debtors to propose a repayment plan that they can pay in affordable installments. Instead of drowning in debt with no end in sight, Chapter 13 is a way you can pay off your debt based on your income. The time frame for this repayment plan is generally from three to five years. During this time, most creditors or debt collectors are prohibited from continuing collection efforts. If you are being harassed by debt collectors, our bankruptcy attorneys can help.
Advantages of Filing for Chapter 13 Bankruptcy
One of the biggest advantages of Chapter 13 bankruptcy is the fact that individuals have a better opportunity to save their homes from foreclosure. Filing under this chapter means that you are able to reinstate your mortgage, and cure any delinquent payments over time. You are also able to reschedule secured debts other than a mortgage, and extend them over the duration of the Chapter 13 plan in order to keep your property. 
This plan does not require individuals to be in contact with their creditors, as they will be making the payments through a Chapter 13 bankruptcy trustee. This is a good option for most individuals filing for bankruptcy. In fact, Chapter 13 is also able to protect cosigners, or third parties who are liable with the debtor on consumer debts. However, every individual case is different, so contact a bankruptcy attorney at McCue Law Office in Bangor if you believe you need to file bankruptcy and do not know where to start. We help take the hassle away and allow you to get back to your life!
Learn More About Chapter 13 Bankruptcy
---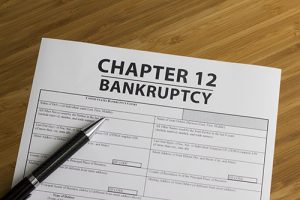 If you are a farmer or fisherman in the state of Maine and need to file for bankruptcy, Chapter 12 may be the best option for you. This type of bankruptcy is only available for fishermen, lobstermen, and farmers and operates much like Chapter 13. However, Chapter 13 bankruptcy only allows for a five-year limitation on property payment, whereas Chapter 12 bankruptcy allows farmers and fishermen the option to stretch the payments over the useable life for a boat, farm equipment, or other type of loan.
Fishermen and lobstermen have the ability to exempt a boat up to 46 feet in length when filing for Chapter 12 bankruptcy in Maine. With the ever-changing laws, it is important to hire a knowledgeable and experienced bankruptcy attorney to help you through the legal process. 
Let the dedicated professionals at McCue Law Office to help you understand every aspect of bankruptcy before deciding to file. We offer free consultations, whether over the phone, via email, or in-person, and we are always working to ensure the best outcome for you and your business. Contact us today.
---

Chapter 11 bankruptcy is an option available to individuals and businesses who either do not qualify for one of the other types of bankruptcy, or for whom one of the other bankruptcy chapters is not the best choice. It allows corporations, partnerships, other business entities and individuals to reorganize their debts. Chapter 13 is only available to individuals, so Chapter 11 may be the only way for other business entities to reorganize their debts. Chapter 11 is available to individual who may exceed the debt limits of Chapter 13. 
Chapter 11 bankruptcies are typically more expensive than other types of bankruptcy. The Chapter 11 process can be complex and confusing, and should not be attempted without the help of an experienced bankruptcy attorney. It is important to understand all of your options, so contact McCue Law Office for a free consultation.