Motorcycle Accident Bangor
After a motorcycle accident, an experienced and competent personal injury attorney is essential in order for you to understand your legal options. If you have been a victim of the negligence or recklessness of another, you may be entitled to benefits and compensation. Our clients are always our law firm's top priority, so we work hard to get you what you deserve after you have been injured, or if your property has been damaged. 
Many people enjoy using motorcycles for commuting or pleasure, and we understand the allure of driving winding roads through our beautiful state of Maine. Unfortunately, riding a motorcycle comes with risks, and one of the biggest risks to motorcyclists are the other drivers on the road. If you are a biker, you understand that a lot of people don't understand how to safely share road space. When a motorists breaks a rule of the road or makes careless decisions (such as passing on a blind curve) that driver can cause a serious accident. We sincerely hope that you never have to experience a motorcycle accident, but if you do find yourself in this painful situation, know that our personal injury lawyers are here to help. Our Bangor-based law firm has more than 35 years experience helping motorcyclists across the state of Maine get the compensation they need to focus on healing. 
Determining your best course of action in accidents involving a motorcycle can be a hassle, so contact the caring professionals at the McCue Law Office and we can deal with it for you! And if you'd like more information about motorcycle accident claims and other personal injury cases, visit our personal injury overview page.
–
–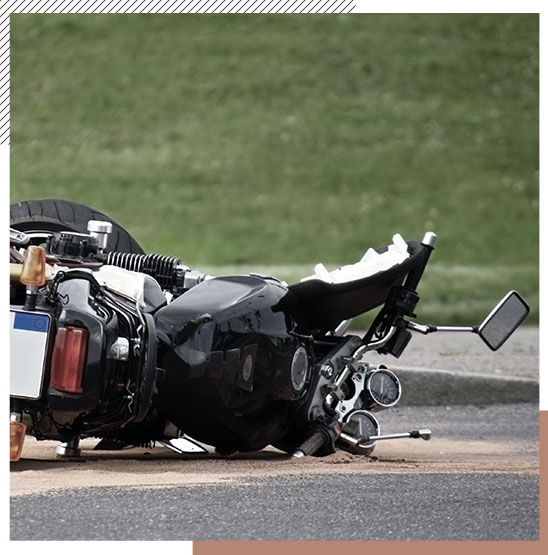 –
Damages in a personal injury case, like those you may pursue after a motorcycle accident, are generally divided into two types:
Damages capable of exact calculation (the price of property damage, for example, the cost of damage to your bike)

Damages not capable of exact calculation (such as pain and suffering)
If you have been in a motorcycle accident that was caused by another driver's negligence, then you have the right to obtain compensation. Part of a successful personal injury case is the ability to prove that the other driver's negligence was a direct cause of the accident, and thus the injuries caused by that crash. Part of our job as your personal injury lawyer is to gather that evidence and help calculate the damages.
If you or a loved one was hurt in a motorcycle accident, know that you have legal rights and the ability to take action. Our experienced personal injury lawyers can help you understand those rights and your options moving forward.
–
–
In many states, a statute of limitations — or the amount of time you have to file a claim — is set in place for personal injury cases. In the state of Maine, the statute of limitations on personal injury claims is six years. 
If your personal injury lawyer and insurance company are able to come to a fair agreement regarding your compensation for injuries, property damage, and other aspects of a motorcycle accident, the statute of limitations is no longer relevant. However, if you have not signed any paperwork or given any statements to your insurance company, you will have six years from the day of the incident to file a lawsuit against the person or entity who injured you. 
In fact, the best steps to take in the event of a personal injury due to a motorcycle accident are as follows:
Inform law enforcement immediately

Seek medical treatment

Obtain contact and insurance information from everyone involved

Contact a personal injury attorney to know what your rights are
–
–

In some cases, "biker bias" can sway the court's perception of events. Since motorcycles are harder to see in traffic, it may be difficult to properly assign blame. Adequately establishing blame can ensure that the rulings are accurate, but if you were in an accident due to another driver's negligence, you have every right to seek compensation. 
The best chance for a favorable outcome is hiring a dedicated, experienced personal injury lawyer to represent you. Carl D. McCue and his staff in Bangor can provide you with the legal services you need in the event of a motorcycle crash. Call our office today for a free consultation!